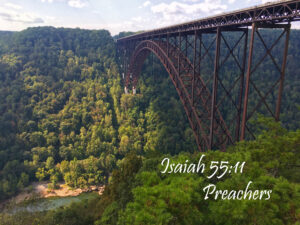 "No one knows the Bible today, so talking about the Bible is boring to people."
"The Bible is not relevant to my daily life. Who cares what happened to Hosea?"
"Our world has changed, so we need sermons that relate to our changed world?"
"You have to preach about what people want to hear if you want to help them with what they need to know."
"Why do you spend all that time in the exegesis of the text? All that work studying the Bible won't help you understand the needs of people."
I hear and read statements like these quite often today. They are common reasons why people argue that expository preaching does not work anymore. It is archaic and irrelevant, according to many. In other words, popular preaching today is built on two flawed foundational presuppositions.
1) Human nature has changed.
2) Study people to understand human nature.
Many sermons being preached today are human-centric, not God-centric as a result. Relevance comes from our audience, not God. The needs of people are more important than the Word of God.
BIG IDEAS OR SMALL IDEAS?
Where do small ideas come from? They come from us.[1] When we preach our ideas coming from our wisdom, they will have little long-term impact on people. When our sermons are based on google searches and felt needs alone, they will be small ideas. The trend today is toward "how-to" sermons with "clickbait" themes. We may give sound advice about stress, anger, politics, or marriage, but our ideas won't truly change people's lives because they are human in origin. Humans are small. God is big!
Where do big ideas come from? They come from God. He gave us His Word. His revelation is found in Scripture. His ideas are in the Bible. We think that relevance comes from the audience – the people – but relevance comes from God's truth. His Word is where we find life-transforming relevance. He knows what we need better than we know what we need. Human nature has not changed. The assumption is flawed to the core. God knows human nature better than we can ever know human nature.
THE QUEST FOR RELEVANCE
The quest for relevance drives much preaching today. We are afraid that we will bore people by talking about God and the Bible instead of their questions and needs. So many preachers focus on people-centered sermons, striving to be relevant to the people in our audience.
[2]
We are afraid that God-centered preaching will not be relevant. It will be old-fashioned and archaic.
However, the truth is just the opposite. The most relevant preaching is God-centered, Word explaining preaching. This does not mean that we ignore the needs of our people. God-centered preaching trusts that God made us, so presumably, He knows us better than we know ourselves. God knows what we most need, and we most need God. If we keep our eyes on God, we will address the needs of our people.
[3]
Pastoral preaching seeks to explain how God wants His people to live in their everyday lives in this world because of what God has done for them in Christ.
[4]
God-centered sermons emphasize what God knows that we most need to know.
Do we trust Isaiah 55:11 or not?
So will my word be which goes forth from My mouth; It will not return to Me empty, without accomplishing what I desire, and without succeeding in the matter for which I sent it.
THE PRESENCE OF GOD
The presence of God is in the preaching of His Word. The power of God is found in the Word of God. The Word of God is the scalpel that slices into the heart of man, revealing our thoughts and intentions to the eyes of God according to Hebrews 4:12. Many modern preachers have lost faith in the Word of God, which is why they rarely read that word in worship or preach it in context. Many preachers today use the Word as a resource to sanctify their ideas and methods rather than as a source to define His doctrine and His solutions. In our quest for modern relevance, we have lost sight of the presence of God in His Word. We pay lip service to it, but our hearts are not in it.
God's presence is in His word as it is preached by His disciples. Jesus said, "The one who listens to you, listens to Me, and the one who rejects you, rejects Me; and he who rejects Me, rejects the one who sent Me" (Luke 10;16). The reading of Scripture alone carries power because the presence of God is in His word (1 Tim. 4:13). Paul wrote about the Jews, "until this very day at the reading of the old covenant the same veil remains unlifted, because it is removed in Christ" (2 Cor. 3:14). It takes God to remove that veil. God's Spirit combines His words with our words to transform our listeners (1 Cor. 2:13).
Now that is pastoral preaching! Expository preaching exposes the Word of God for people to see and hear. We need to trust the presence of God in the Word of God to transform the hearts of humans through our preaching.
We need to be Isaiah 55:11 preachers!
[1] J. Kent Edwards, Deep Preaching: Creating Sermons That Go Beyond the Superficial, Nashville, Tennessee: B & H Publishing Group, 2009, 66.
[2] Ralph L. Lewis and Gregg Lewis, Learning to Preach Like Jesus, Westchester, Illinois: Crossway Books, 1989, 15-24.
[3] Dale Ralph Davis, The Word Became Fresh: How to Preach from Old Testament Narrative Texts, Scotland: Christian Focus Publications, 2006, reprinted 2012, 121.
[4] Mbewe, Pastoral Preaching, 31.