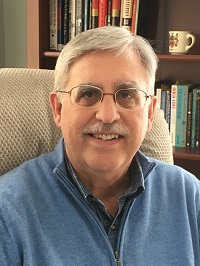 David Christensen (Th.M., D.Min.) is the founder and president of The Rephidim Project, a ministry devoted to Bible exposition and expository preaching.
Dave's purpose in life is to know Jesus in the power of His resurrection, the fellowship of His sufferings being conformed to His death (Phil. 3:10). Dave's passion in ministry is to practice and promote the exposition of God's Word being convinced that feasting on Scripture nourishes the soul for effective ministry in the cause of Christ.
Dave grew up in Pakistan, the son of missionary parents Jack and Edna Christensen. He spent his early years watching his parents faithfully pour out their lives to reach a hostile world for Christ. The family returned to the United States when Dave was a teenager because his mother became sick and almost died. The doctors would not allow them to return to Pakistan, so his dad took a pastorate in Maine. Dave met his future wife, Janie, in a ninth-grade history class and they both were involved in the same youth group at church. After High School, he attended Philadelphia College of Bible (now Cairn University) in center city Philadelphia graduating with a Bachelor of Science degree in Bible and Pastoral Studies. Janie and David married in 1975 after his junior year. He co-pastored Albion Bible Church while completing his degree. They moved back to Maine for four years while Janie completed her nursing studies, and Dave served as a youth director at his home church.
Dave went to Grace Theological Seminary, earning his Master of Theology degree in New Testament and Greek. He served two years as the grading assistant for Dr. John Sproule, the Chairman of the New Testament and Greek department at the seminary. Dave returned to Maine in 1984 to become the Homiletics Professor at New England Bible College. He served the school in various capacities for over 30 years including as Academic Dean and Interim President. In 1990, Dave also became pastor of Galilee Baptist Church in Gorham, Maine where he continues to serve as Senior Pastor. During this time Dave completed his Doctor of Ministry degree and taught many classes at the college while pastoring a growing church. Dave taught courses at the Bible College in the areas of Expository Preaching, Pastoral Theology, Greek, and New Testament. His preaching ministry at the church has focused on the sequential exposition of Bible books as the best way to feed the people with the whole counsel of God's Word (Acts 20:27). He has also taught seminars and preached messages on mission trips to Spain, Morocco, Ireland, Russia, Panama, and Ukraine.
Dave has been involved in dual ministry as a pastor and professor for over 30 years. This combination of teaching and pastoring meshes deep study with practical application – the mind with the heart and hands – in ways that have prepared him for his current ministry at The Rephidim Project. Dave continues to preach at Galilee Baptist Church while encouraging pastors, missionaries, and church leaders through Bible exposition and teaching the methods of expository preaching to the next generation of pastors. He is a member of The Evangelical Homiletics Society and The Evangelical Theological Society.
Dave and Janie live in Maine and enjoy camping and kayaking. They have two adult daughters.