PRAISE FOR THE IMPACT OF OUR PREACHING COHORTS
Here are some of the testimonials from pastors in Maine who expressed appreciation for the ministry of Rephidim. We praise God for how He is equipping and encouraging pastors through our preaching cohorts.
"The Rephidim Project is a gift of God to Maine. What need is more pressing than this present famine of truly expository preachers? … There is a new generation of young men eager to feed Christ's sheep. We thank you for raising our arms. The tide is turning." (Alex)
"The preaching cohort ministry of the Rephidim Project has been a profound help to me. The provided books have been an excellent resource, and the group setting, facilitated by an experienced pastor, has been a consistent encouragement to faithfulness in preaching and in the ministry generally. How are we to grow without the prayers and help of our co-laborers? I commend these cohorts heartily."
(Ian)
"The preaching cohort has been a positive experience. … There are very few opportunities for hands-on, in-person training experiences in Maine, and to have an opportunity for folks looking to discern God's calling on their lives is invaluable."
(Jacob)
"Rephidim's preaching cohort is a valuable resource to those currently preaching and those exploring that great office. … Full of substance and support, cohort members find a place of brotherhood, bonded by prayer and a desire for God's Word to be heralded in Maine and beyond."
(Mark)
WHAT IS A PREACHING COHORT?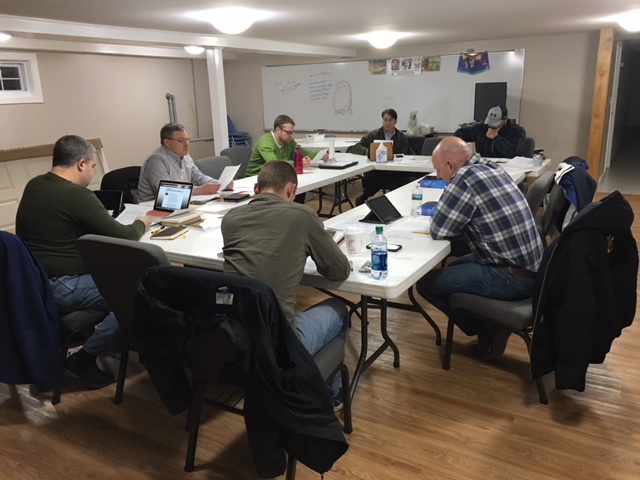 VISION: To establish cohorts of pastors who covenant together to develop and improve their skills in expository preaching through joint workshops, mutual encouragement, and personal accountability.
COHORT: A cohort is a group of 6-10 men who are preaching regularly and commit to learning together in the cohort for two years.
EPI-CENTER: The mission of EPI-Center is to encourage pastors in "rightly dividing the Word of God" through the expository method of preaching. The mission is accomplished through periodic workshops and ongoing preaching cohorts.
METHODOLOGY:
1) A cohort agrees to meet four times per year either online through virtual classrooms or in person at mutually agreeable locations.
2) A cohort agrees to work with each other in prayer and mutual encouragement on a regular basis during this time.
3) A cohort agrees to share sermons with each other for constructive criticism and personal accountability. Peer review is central to the cohort process of growing more effective preachers.
4) A cohort agrees to read and study preaching resources and share insights with each other on a regular basis. The Rephidim Project will develop, provide, and suggest resources for personal growth to the cohort members.
5) A cohort agrees to attend a larger EPI-Center workshop in their geographical area whenever possible.
CURRICULUM-WORKSHOP TOPIC: Each cohort collaborates in designing a personal learning plan for the program. The PLP should prioritize the needs of the cohort members to maximize the value for each one. The facilitator will gather the resources and develop the workshops to focus on the PLP following the model of learner-centered educational outcomes.
Additional Information On Preaching Cohorts, Methodology,
and The SAFNS Method Of Sermon Preparation