The Rephidim Project exists to support those on the frontlines of spiritual battle with the resources to be refreshed through the study of Scripture to spread God's Word in this world more effectively. Read More…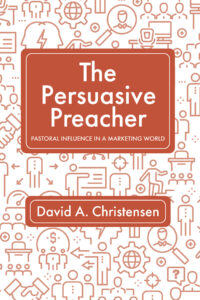 How can we preach persuasively without huckstering, manipulating, or coercing people? Sadly, we are seeing the fall of many pastors not for reasons of sexual immorality, but the pursuit of pride and power. The skillful use of marketing methods creates celebrity pastors who become significant influencers in the evangelical church. The lure of success is seductive, turning pastors into hucksters and Christians into consumers. We need to heed the warnings of the New Testament about the pride of rhetoric and the pursuit of power. David Christensen carefully analyzes the biblical warnings of Paul about the temptations of rhetorical sophistry in the first-century church and applies them to pastoral ministry today. God calls preachers to be ethical and effective persuaders. David develops an ethical grid for pastoral persuasion using principles drawn from the Bible and social science along with practical illustrations from his years of ministry. He calls preachers to be ethical and effective persuaders by emphasizing the centrality of the word of God while depending on the power of the Spirit of God.
For decades David Christensen has not only studied and taught the proper use of persuasion in preaching and ministry, he has also practiced it. His book provides the historical and biblical background for understanding the issues involved. It is filled with practical examples, both positive and negative, which equip the reader to both preach and pastor with greater integrity and effectiveness. –

Dr. David Lambertson, faculty member at New England Bible College and Grace Evangelical Seminary



"David Christensen's newest book is much-needed. The author, a pastor who not only grew up on the mission field but also served much of his life as a college professor and administrator, calls us to recognize that our preaching and all forms of ministry expression are systemic outworkings of our hearts. That means that our persuasion is influence and our influence must serve its purpose from pure motives. The book is a must-read for all Christian leaders who speak and write for ministry." –

Dr. David Deuel, Academic Dean Emeritus, The Master's Academy International
There's no shortage of books on how to preach effective sermons, but rarely can you find a work that digs deep into the inner workings of how persuasion can be done with biblical authority and integrity. Drawing from a well dug deep through years of experience as a pastor and educator, David Christensen unpacks both the historic and popular techniques used by preachers and examines whether they measure up to the biblical standard for conveying doctrine, reproof, correction and training in righteousness. –
Rick Francis, New England Consultant for the Cecil B. Day Foundation
There are not enough books like this, calling preachers of the Gospel back to the old path of dependence on the power of God. Christensen writes The Persuasive Preacher with maturity, insight, and clarity, reminding us that a faithful proclamation of the Biblical message will equip us with an ethically sourced concept of what it means to be a soul-winner. –
Garrett Soucy, Pastor, Christ the King Church
"The Persuasive Preacher calls pastors to present God's Word with biblical authority and boldness. Christensen, a seasoned pastor and professor, understands and effectively communicates why and how preachers should use biblical persuasion techniques. He also acknowledges the responsibility of listeners to respond, without any unethical manipulation from the preachers. Numerous illustrations reinforce his pertinent arguments. I consider this book a welcome companion to my own volume, Persuasive Preaching."
–
R. Larry Overstreet, retired professor at Corban University School of Ministry
As the Apostle John warned in his third letter about leaders like Diotrephes , David pierces through poisonous agendas to carefully divide between manipulation and the way of the Spirit of true holiness. This book is a heart check for each spiritual leader's soul and a guide to walking in the wisdom of the responsibility to speak the truth in love, and to rest in the Spirit for the results.
–
Jamie Bickel – Pastor of South Hope Community Church